Instructions to update UA's mobile app

:
Update app through App Store or Google Play
After updating UA app click on Action Card link on UA app
Install – Blackboard Transact E-Accounts
Apple users will need to login into iTunes account (app is free) and
Android users click Accept
Open App
Add site
Search and select "The University of Alabama"
Login with MyBama ID and password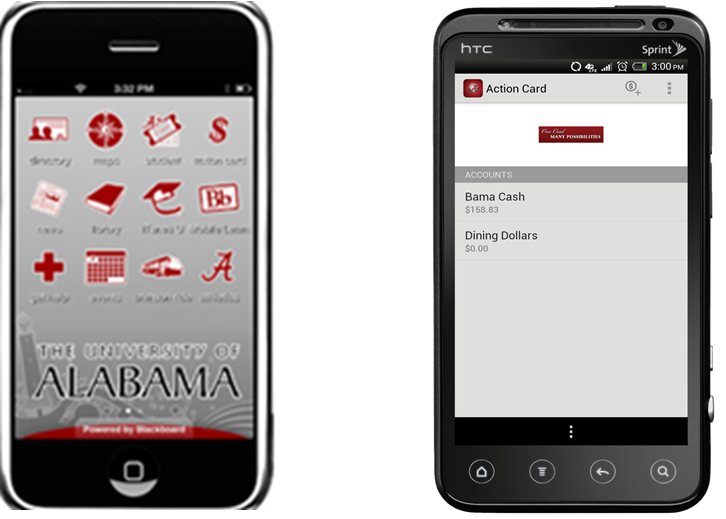 Apple & Android Users – using UA's Mobile App can deposit to Bama Cash and view Action Card account balances and transaction history.
To get started making Bama Cash Deposits from UA's Mobile App, you must first enter your credit card information as a Saved Payment Method from the Action Card eAccounts website.
Before you begin to use the Action Card option on UA's Mobile App for Bama Cash deposits:
You must access the Action Card eAccounts website then log into eAccounts using your MyBama login and password.
Once you complete a Bama Cash deposit from the website, a Saved Payment Method option will appear on the Receipts Page.
Check the box for Saved Payments Method and you will be asked to name this payment option. Once this step is completed, this name will appear on the deposit screen under the Action Card Deposit button on UA's Mobile App. From the Mobile App, you simply select the name as the payment option and you will not enter credit card information directly into the mobile app.
You can save more than one credit card but each card can only be saved after it has been entered for a valid Bama Cash deposit transaction from the MyAccounts Web page. Each credit card saved payment information must have a unique name. You have the option of selecting one of those saved payment methods as the default setting. If you save more than one payment option, each unique name you create will display on the deposit screen under the Action Card Deposit button on UA's Mobile App.
Now you are ready to download UA's Mobile App and use the Action Card option.
Once the Mobile App is downloaded, select the Action Card Icon 
Login using your UA Bama ID and password
Make your deposit or check your account balance(s) or recent transactions.
Why can't I deposit from my smart device using my UA's Mobile App?
Remember you have to login to the Action Card eAccounts website first and save your deposit information using our secure website and name the Saved Payment Option.
Why do I need to SAVE my deposit information?
Once you save your payment information in eAccounts, you have linked the named Saved Payment Option to the mobile app. You simply link on the saved name to make your deposit without entering credit card numbers from the mobile app. Once you have a Saved Payment Option entered from the web, the Action Card deposit icon on the mobile app is available for immediate usage to deposit to Bama Cash.