UA Commemorative Card
You can't carry around your diploma… 
The University of Alabama Graduate Commemorative Card is an exclusive for graduating students!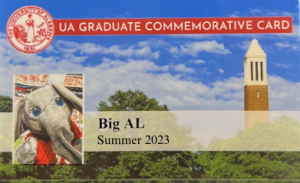 Congratulations on graduating from The University of Alabama!
Want to commemorate this momentous occasion? Get your official University of Alabama Graduate Commemorative Card!
This card will feature your ACT Card photo, name and graduation term, and is only available to graduates of The University of Alabama.
To be eligible for purchase, you must have applied to graduate for the current graduation term. Orders are not open to any previous graduation years.
Eligibility for purchasing a card for the Winter 2023 term will open approximately two weeks prior to commencement.
If a card is purchased and you are deemed ineligible, a card will not be printed, and you will be refunded for your purchase.
The commemorative card will have the current name and photo that is used on your Action Card. To update your name to a legal, chosen or preferred name, visit the Chosen or Preferred Name information in myBama.
Students are eligible to update their photo once per calendar year. For updates to your photo for your commemorative card, contact the Action Card Office at action.card@ua.edu with the photo you'd like to use and your CWID.
Any changes to your name or photo must be made prior to your order or the current name and photo on your Action Card will be printed.
The cost for the commemorative card is $50. Cards will be mailed after graduation from the Action Card Office to the address on file in your DegreeWorks. Cards will be shipped after the purchasing window has closed and an email will be sent notifying you of shipment.
This card is for commemorative use only, and is not an official form of identification and does not guarantee current UA status. This card cannot be used for Action Card services on- or off-campus.